Testimonials From Our Pro Trainer Customers
Chuck Coan – Wisconsin
Andy Bonchonsky – DOC Santan Soccer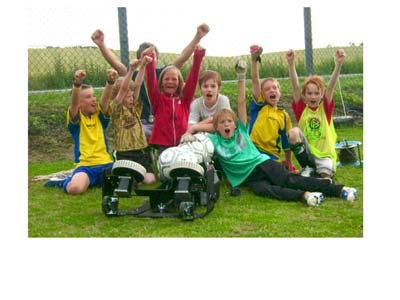 Some of our happy Pro Trainer players in Germany!
Words from our customers:
"I bought the Pro-Trainer for my three children, 2 high school aged players and one middle school. My son is a senior, plays striker, and my sophomore daughter is a keeper. Both of the older players have seen increased playing time and I have seen their ball handling skills increased dramatically. I know this is in a large part due to the time we spent in the summer with the Pro-Trainer. The first touch is so important, especially for a goalie! The boys coach said he wants to use it next year. I gave him your web address! Thanks for a great, tough, well made product. Futsal is next…. The Pro-Trainer has worked perfectly each time. It really is a great product."
G. C. Schaeffer
"The Pro Trainer Soccer machine has been helpful and I am hoping to convince a couple HS programs to incorporate
it into their training. I used the Pro Trainer for a group of 25 kids that feed into one school and their first touch on the ball is far superior to any other kids in the area.The other thing I found interesting, the younger the kids the more excited they are to use this machine. I started using this machine with kids that were U-12/13 and the kids liked getting a consistent ball delivered to them during training sessions. A few U-10 kids saw what was going on and came over to have
a turn. Before they went to HS, most all could receive a ball within a 3-5 yard circle (basketball circle in gym) and maintain control.
The 2 goal keepers liked it because they did not have to "wait" for someone to put the ball on frame."
Tracy Adams – West Virginia
"I have been using the Pro Trainer for the past two seasons and hve found it to be an invaluable training aid.
I use it to train my goalies, to get consistant restarts for set pieces and as a trainer for learning ball control. "
Bill Hamilton
"Our high school team purchased the Pro Trainer so our players could get more touches on the ball during practice. It get our GKs 100+ touches a practice and allowed out field players to work on trapping and first touch without long lines and tired legs. We are excited to get the ProTrainer indoors and continue to work on first touch and finishing in the off-season. The Pro Trainer is like having an extra assistant at practice. Consistent ball service for any situation. I would definately reccomend the ProTrainer to any serious soccer program."
Brian Samuel
"I am the parent of a 12 year old boy that is passionate about the game. I purchased the Pro Trainer to assist his coach in helping my son and his team build the necessary skills to be competitive. The first weekend I had the machine we went to the fields and worked corners and completions, for almost 4 hours! Needless to say, the boys love to use the machine because they know now when we use it they will get far more touches than if they were not using the Pro Trainer. The only maintenance required is the cleaning of the wheels and that only requires a few minutes if done after each session while it is charging. I would highly recommend the Pro Trainer to any soccer mom or dad that has a child that is passionate
about the sport."
Larry Williamson, Florida
"We use four of the Pro Trainers in our new indoor facility, Sutton Soccer. We had no idea they would be SO durable. They have always worked great in our outdoor training but now we run them 5-6 hours a day and they never break down. For over a year now!
This level of performance has meant better training sessions, little or no maintenance to the machines, and no down time for our training sessions. The only thing we ever have to do is clean the wheels once in awhile.
That translates into giving our players thousands of touches on the ball everyday! And those repetitions show results in players skills."
Tom Sutton
"The Pro Trainer works great for my 16 year old son. He enjoys training with it because it gives him a consistent serve so he can focus on improving his first touch skills. I am not a great player so my ability to serve a consistent ball to him is limited. With the Pro Trainer we can go to the park and set up to work on whatever technique he has had trouble with in recent games.
We work one on one with it and this gives him many chances to focus on his receiving skills. The Pro Trainer serves and he improves."
Donald O'Connell, Colorado
Father of U16B player
"We use it a lot in our family I have three kids who play soccer and we have used it with all of them. They range from 10 years old to 21. My daughter is a goalkeeper and we take it out to the local high school and give her hundreds of shots in a session. She likes the ability to get that many touches in a short time of training.
She is off to college next year to play soccer and I would say that it definitely helped her game."
Dave Holland, California
Father of 3 youth players
" The Pro Trainer is a fantastic machine. I use it in all of my Goalkeeper / Striker training sessions. I am able to train
each player up close while the Pro Trainer delivers the ball accurately, allowing me to spend most of my time working on their techniques and less time kicking the ball.
Having the Pro Trainer battery powered, I am able to go to all the fields and train for hours on a single charge. This
alone makes it unique. All my students love the machine and to them, each training session becomes a fun activity.
I recommend the Pro Trainer to all coaches or parents whom would like to utilize their time in hands-on training, rather than kicking a ball for a few hours accurately."
Tom Starke
USSF National Goalkeeper Coach
NSCAA Goalkeeper II
"I used the Pro Trainer in my summer soccer camps this year and the kids really loved working with it. Parents commented on how much  fun their children had while working on their technique. We teach first touch skill
development and the Pro Trainer really helps work on these vital skills.
In the club season I am now using with my older girls team to really give them some great confidence on taking a ball out of the air. It's a fabulous product you have."
Jennifer Medina
First Touch Soccer Camps
ACCYSL Mavericks U15G Coach
Juventus Diablos U-15G Coach
"I have just integrated the Pro Trainer into my training program this spring after using someone else's last season on occasion. I think every coach should have one of these valuable machines. There are so many ways to use it in your training.
Whether you are fixing techniques that players are not doing correctly, building new skills, or just giving quality repetitions to players for honing their skills on a regular basis. We all know that the name of the game in development is giving players the chance to succeed. This tool does that for my training."
Chris Young
High School and Comp Coach