Ball machines are effective at training essential sports skills. Now you can use the Pro Trainer for essential soccer skills too!
Other sports such as baseball, tennis, football, and volleyball, have had ball machines for years to train essential skills. All coaches know that successful repetitions are the key to mastering skill technique, whether it is hitting a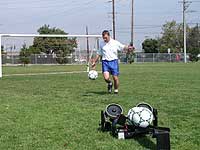 baseball, volleying a tennis ball, catching a football, spiking a volleyball, or in the case of soccer making a great first touch on the ball no matter how it comes to the player. Now soccer has a versatile, portable, rugged ball serving machine that can truly be an effective training aid for players of all ages and abilities.Soccer training using a Pro Trainer is fun and effective.
The Pro Trainer soccer ball machine can serve rolling, bouncing, driven, or air balls. At the higher speed setting and a driven ball angle the ball comes out of the machine at 65mph. This is a well served ball. It provides thorough and challenging practice. Practice makes perfect, whether you are talking football. Get your training program on track and improve your skills by practicing regularly with Pro Trainer.
Training with the Pro Trainer, players get many repetitive touches on the ball enabling them to focus on their soccer skill development in rapid fashion. Even if they are not immediately successful with their touch they can get instant feedback by watching other players take touches on the ball from the Pro Trainer. When they get the double effect of proper coaching and being able to see their teammates succeed it makes them work harder.
We have had this happen over and over again in our small group soccer training sessions, camps, and team sessions. Whether you work two players on the Pro Trainer soccer ball machine at a time or eighteen you will see the benefits it gives your players.
Need Help Shopping? 1-888-647-7678