Soccer Training – Soccer Success!
It All Starts In The Effective Repetitions!
Does your soccer player get the chance to succeed over and over again at every training session?
The Pro Trainer allows your players to get the repetitions that give them the confidence to perform while having FUN at soccer training!
Bottom line, with the Pro Trainer soccer ball machine you can give players 1000's of chances to succeed and build confidence in their critical game skills.
Our Free Video shows you how much fun players can have while becoming better technically skilled.
Get your Pro Trainer DVD here. Or..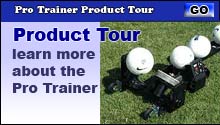 Control of the soccer ball is so critical for players. Without it their game is so ineffective. A soccer ball machine at your training sessions can make the difference. If they are given the chance to succeed over and over again through effective repetitions they gain the confidence to perform in game situations. These essential skill techniques need to be trained for soccer success.
The Pro Trainer can give field players the ability to gain confidence on these skills and much more in their soccer training:

Rolling Balls, Air Balls, Driven Balls

Inside of foot Traps, Laces Traps, Chest Traps

One touch passing

Control and striking the ball

Headers – offensive and defensive

Volleys and much more can all be trained effectively
The Pro Trainer soccer ball machine is an incredibly rugged and durable training tool that will have your players begging for more soccer training time. When you train with the Pro Trainer, players get the chance to succeed over and over again. When that happens players see development occur right before their eyes. We have players who literally beg us to use the Pro Trainer at soccer training sessions because they love getting the chance to work on their first touch in ways that no other drills do.
We even call it corrective soccer training.
Yes that's right corrective training. Players have so many bad habits ingrained when it comes to receiving the ball that they need to take 100's of touches on the ball to correct their technique. Watch any game, anywhere and you will see what we mean. Players do not know how to properly receive, trap, volley, and head the ball under game conditions. Well how can they when they have never developed the skill confidence to actually do it in the game pressure situation?
Throw out those old notions about how to train skills in soccer!
Unless your player is out in the backyard or the street every single day of the week playing soccer they are not getting the number of touches needed to become truly skilled players. Let's face it folks we want them to succeed but asking that of them is not realistic if we stuff them into two or three team training sessions a week. There is too much to work on and not enough time.
If any of this rings true for you, then give them the chance to learn the techniques right, under ideal conditions and you will give them the confidence to perform under game conditions. We guarantee that if you use this machine and give your players effective, efficient serves they will improve their first touch. Whether it is a ten yard air ball to a 12 year girl or it is a 25 yd serve to one of your backs to work on trapping the ball dead at their feet every time, this machine will provide you something you cannot give your players. Repetitions that are effective all the time!
The Pro Trainer soccer ball machine is made for Pro Trainer Soccer by Sports Tutor Inc., the largest ball machine manufacturer in the world. Sports Tutor sells more tennis ball machines than anyone. You should see the new high tech baseball pitching machine they sell now! Wow it is cool. The engineering this company performs is really top notch. They build this soccer machine in the USA out of the highest quality components. This machine lasts! They use high quality aluminum framing, top notch motors and controls designed by their team of quality engineers. Our design and their high quality manufacturing gives you the best soccer ball machine on the market.
What you get with a Pro Trainer

Soccer players gain confidence in their game skills
First touch improvement at every training session
Focuses on individual player skill development
Master all the essential skill techniques
Players learn their techniques to the point where they can have their head up in the game and see where they are going next with the ball
Ability to train from the easy to the hard, beginning to pro level
Serve effective and efficient soccer balls
Repetitions that build skill – imagine 1000's of touches each week on skills
Give GK'ers the chance to make all kinds of saves
Make your GK really train each session and see them improve

I could go on and on and ON. The simple fact is that your player(s) will get focused, effective training on the ball that will make them better, more confident players in the game of soccer.
Other sports such as baseball, have had ball machines for years to train essential skills. All sports coaches know that successful repetitions are the key to mastering skill technique (building muscle  memory), whether it is hitting a baseball, hitting a golf ball, volleying a tennis ball, catching a football, spiking a volleyball, or in the case of soccer making a great first touch on the ball no matter how it comes to the player. Now soccer has a versatile, portable, rugged ball serving machine that can truly be an effective training aid for players of all ages and abilities.
Guaranteed to please!

We stand behind this great product 100%. The Pro Trainer soccer ball machine is covered by a 1 year manufacturers warranty against defects and workmanship. It is also covered by a 14 day money back guarantee. If you get your Pro Trainer and try it out in your training and don't think it can benefit your team or player in becoming better at essential first touch skills we will take it back. More Details
Our proven system of soccer training was created by Tom Sutton. His extensive background working in soccer coaching has led to this exciting program that promotes player development. The Pro Trainer serves up to 700 Balls Per Hour – (the Pro Trainer soccer ball machine serves a ball every 5 seconds.) Players get a highly effective,and efficient skill training in areas that matter the most on the field. First touch and the development of all surfaces of the body skills, shooting, dribbling, and goalkeeper training are very critical areas in which we train players to improve their game. We sell and distribute the Pro Trainer all over the USA for the low price of $1659. In a nutshell, we know this machine and can help you benefit from using it in your training.
 Soccer training with pro trainer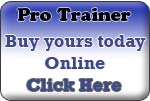 Latest News – Pro Trainer
Need Help Shopping? Call Us At 1-888-647-7678